Event Info
Dates: Saturday Sep. 18 & Sunday, Sep. 19, 2021
Gates open: 11:00 am - 7:00 pm.
How To Get Here
Public transit info is available at the Santa Cruz Metro web site.
Driving directions are available on the Roaring Camp web site.
What You Can Bring
Blankets and pillows
Regular-size/unframed backpacks
Guests are encouraged to bring water in sealed plastic containers
Empty Camelbak or other empty plastic container (i.e., Nalgene bottle)
Binoculars
Low back chairs
Personal cameras with a detachable lens 2 inches or shorter
What You Can't Bring
No RV parking
Personal shade tents
Weapons of any kind
Illegal substances
Framed or large backpacks
Alcohol (alcohol will be sold at the festival)
Cans of ANY kind
Skateboards, scooters, or personal motorized vehicles
Bicycles inside Festival grounds
Fireworks and explosives
Instruments and laser pointers
Food, Coolers
Pets
Video equipment - no video recording will be allowed
Professional still camera equipment with a detachable lens longer than 2 inches, tripods, big zooms, or commercial use rigs
No illegal vending is permitted - no unauthorized/unlicensed vendors allowed
Food Options
Reasonably priced food (including vegetarian/vegan options) and drinks will be available on-site.
COVID-19 Precautions
The health and safety of the Santa Cruz Mountain SOL Festival and Santa Cruz area communities remains our top priority. We will be working closely with local and state officials to create the safest festival experience possible.
Once final protocols are established, Santa Cruz Mountain SOL Festival will be adhering to County of Santa Cruz Health Official's guidance and directives. Please be prepared to show proof of full vaccination or a negative test (taken within the previous 72 hours) per Santa Cruz Health directive in September.
For more detailed information, view our statement on the ticketing page.
Security/Safety
Our primary goal is to create a safe and secure environment for all festival attendees. To ensure this, there will be on-site security provided by local police and private security companies. If you're experiencing any problems whatsoever, locate a festival staff member, security guard, or police officer.
Medical
First Aid will be on-site to help you with any type of medical problem. If you need assistance, go to the medical tent, or look for a police officer or festival staff member.
Vendors
Interested in vending at Santa Cruz Mountain Sol? Tell us about yourself vending@santacruzmountainsol.com
Map of Venue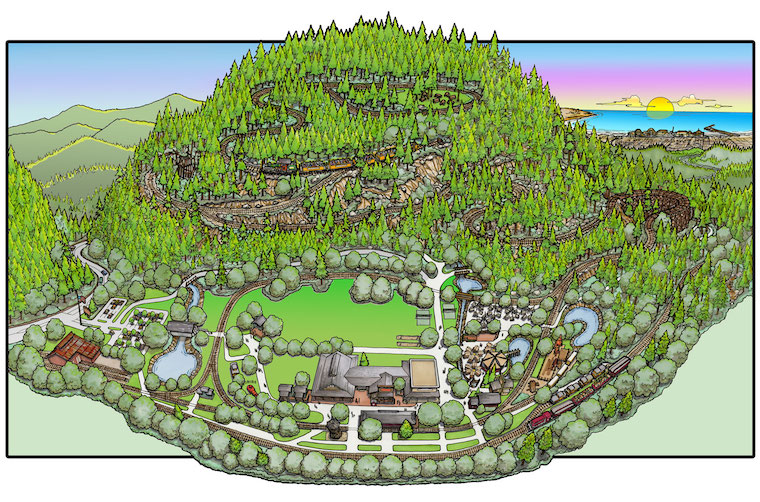 Frequently Asked Questions
Q: Can I bring my child?
Yes, children under 9 are free with paid adult. Discounted youth tickets are available for ages 10-17, purchased with an adult ticket.
Q: Is there a Lost & Found?
Yes
Q: ADA Accessibility?
Yes
Q: Will there be ATMs available?
Yes
Q: How can I volunteer?
Visit our volunteer page and fill out the form.
Q: Is on site parking available?
Limited onsite parking is available. Please carpool whenever possible. Overflow parking is available at Henry Cowell State park.
Q: What lodging is available?
Although there is no camping on site, there are many camping options nearby.
Roaring Camp Railroads shares a fence line with Henry Cowell State Park that has a campground. It's mile or so from the site (not measured, but i walk the trail with my dogs, a few times a week and that's my guess. Steep uphill on the way to the campground) .
There are also several private RV parks on the other side of the river from our site. Also, "hiking" distance from the site. They do offer tent camping. We have never camped at these. Nor have friends. So no endorsements.
http://www.santacruzredwoodsrvresort.com/
4980 Highway 9, Felton, CA 95018
(831) 335-8312
Cotillion Gardens RV Park
300 Old Big Trees Road
Felton, CA 95018
Phone: 8313357669
Smith Woods RV Park
4770 Highway 9 Felton CA 95018
(831) 335-4321
Finally, There is an abundance of motels and hotels from budget to deluxe in Santa Cruz. Our site is 4 miles from the main motel row of Ocean St.
Contact info
Drop us a line at info@santacruzmountainsol.com