SUNDAY SEPTEMBER 19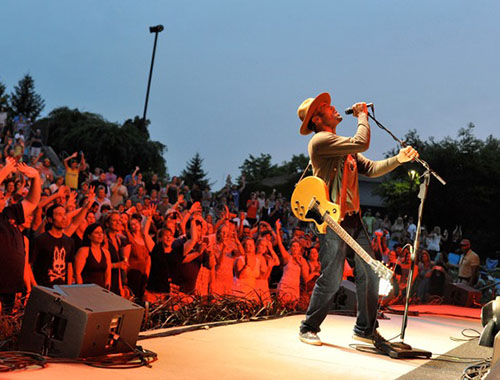 Ben Harper
benharper.com
Ben was raised in a hub of activists, poets, artists and of course great musicians. They included frequent patrons such as Chris Darrow, Leonard Cohen, Jackson Browne and Taj Mahal – the latter of whom gave Ben his first major tour and asked him to record Follow the Drinking Gourd with him (1990), all of which culminated in playing with Taj on Austin City Limits (which would become the first of five times Ben would be on the show).
Born October 28, 1969 as the sixties came to a howling end, and having been raised in such a potent community, Ben's music and career embodies that musical brilliance, open mindedness, lyrical honesty and abiding social activism of that pivotal time. With over 15 million records sold worldwide, the career of this multi-GRAMMY award-winning musician, producer, activist and now, record label founder, spans decades, during which he has been established as a singularly powerful songwriter and performer with range across multiple genres with a rare ability to blend the personal and political.
---
California Honeydrops
cahoneydrops.com
The California Honeydrops celebrate their 10th year together with the release of their 7th studio album and first ever double album, "Call It Home: Vol. 1 & 2" and continue to tour worldwide. Led by dynamic vocalist and multi-instrumentalist Lech Wierzynski, and drawing on diverse musical influences from Bay Area R&B, funk, Southern soul, Delta blues, and New Orleans second-line, the Honeydrops bring vibrant energy and infectious dance-party vibes to their shows. They've taken the party all over the world, playing festivals of all kinds and touring widely across North America, Europe and Australia. In 2016 & 2017 the Honeydrops were honored to support Bonnie Raitt on her North America release tour—and in the past have been privileged to support the likes of B.B. King, Allen Toussaint, Buddy Guy, and Dr. John. Whether in those high-profile performances or in more intimate venues where the band itself can leave the stage and get down on the dance floor, the California Honeydrops' shared vision and purpose remain: to make the audience dance and sing.
---
Photo by Jay Blakesberg
Dumpstaphunk
dumpstaphunk.com
Dumpstaphunk stands out amongst New Orleans' best, cementing themselves as one of the funkiest bands to ever arise from the Crescent City. Born on the Jazz & Heritage Festival stage, and descended from Neville and Meters family bloodlines, these soldiers of funk ignite a deep, gritty groove that dares listeners not to move. Their performances combine ingenious musicianship through complex funk, rock, and jazz arrangements accompanied by soulful melodies and Big Easy traditions.
The band just released their 4th studio album Where Do We Go From Here on April 23, 2021 featuring Marcus King, Trombone Shorty and Chali 2Na, and is now available on double bronze vinyl, CD and all digital platforms. Dumpstaphunk culled material from many different sources over the past few years, creating during downtime and rare off tour cycle stop-gaps at various studios in New Orleans: some songs were born on-the-spot in the studio, others as a drum beat or a groove at sound-check. A few were simply covers that were already in the band's live repertoire. The songwriting was largely collaborative, with all band-members contributing their own respective stylistic nuances.
For the past 17 years, Dumpstaphunk has earned its reputation as the most well-regarded next-generation New Orleans live powerhouse, the type of band whose live shows attract sit-ins from legends like Carlos Santana, Bob Weir and Trombone Shorty. Alongside Hall, Daniels, Alex Wasily, Ryan Nyther and drummer Deven Trusclair, cousins Ivan and Ian Neville have built upon their family's iconic NOLA legacy as they've transformed Dumpstaphunk into the city's pre-eminent 21st-century funk-fusion export, resulting in recent career highlights like their July 2019 opening gig for the Rolling Stones on their home turf at the Superdome.
Dueling baselines from Tony Hall and Nick Daniels III set off one of the dirtiest rhythm sections on the planet, while Ivan Neville lights up the Hammond B3 keys and cousin Ian Neville's funky guitar riffs send the groove into overdrive. Dumpstaphunk tosses around lead vocals and four-part harmonies the way Sly & the Family Stone did, but with three studio albums under their belt, Dumpstaphunk stands on the merit of their own material.
Jerry's Middle Finger
jerrysmiddlefinger.com
Humbly formed in 2015 by a group of professional musicians passionate about Jerry Garcia and the Grateful Dead, JMF started honing its one-of-a-kind sound at LA speakeasies and beachside dive bars. Audiences of all ages instantly fell in love and soon JMF was playing explosive shows up and down the West coast, packing legendary venues like Sweetwater Music Hall, Terrapin Crossroads, and Pappy & Harriet's-dazzling new fans on the scene and pulling even the most discerning Jerry fanatics out of their seats for the first time in decades.
The magic all starts with lead vocalist and guitarist Garrett Deloian. As a seasoned veteran of the blues circuit, he channels his lifelong love for the work of Garcia into every lick with his unparalleled high-octane guitar tone. The rhythm section features JMF drummer/founder Rodney Newman and bassist Burt Lewis. Rounding things out are two powerhouse vocalists, Halina Janusz and Lisa Malsberger, and veteran pianist Jon Gold.
The future looks bright for JMF as they get ready to take their heartfelt magical dance parties to further points across the country. So whether you saw Jerry 500 times or were born after his time on earth, this much is true: JMF will make you feel like he's still here.
---