SATURDAY SEPTEMBER 18
Michael Franti & Spearhead
michaelfranti.com
We are thrilled to welcome Michael Franti and Spearhead back to Mountain Sol 2021!
Michael Franti is an American rapper, musician, poet, activist, documentarian, and singer-songwriter. Michael Franti is known for having participated in many musical projects (most of them with a political and social emphasis), including the Beatnigs and the Disposable Heroes of Hiphoprisy. He is the creator and lead vocalist of his current independent project, Michael Franti & Spearhead, a band that blends hip hop with a variety of other styles including funk, reggae, jazz, folk, and rock. He is also an outspoken supporter for a wide spectrum of peace and social justice issues, and he is especially an advocate for peace in the Middle East.
---
Dustbowl Revival
dustbowlrevival.com
Dustbowl Revival has always been about pushing the boundaries of what American roots music can be. After celebrating over a decade of sonic adventuring and playing thousands of shows together in ten countries and counting, the group collected a devoted fanbase coast-to-coast. After throwing five of their own virtual Sway-At-Home festivals during the shut-down featuring nearly forty artists, the always evolving group of string and brass players led by founding members Z. Lupetin, Josh Heffernan, Ulf Bjorlin are excited to welcome a new wave of talent to the band, after emerging from a pandemic touring hiatus.
After spending years on the road, selling out hometown shows at LA's famed Troubadour, headlining festivals and wowing crowds from Denmark to China, Dustbowl Revival never stopped making their joyful, booty-shaking soul songs and cut-to-heart folk-rock ballads that lift up their transcendent live shows.
Even so, with the bands emotional new single "Beside You" and 2020's ambitious full length Is It You, Is It Me, they wanted to strike into new terrain. As they mined new energetic material from the place where folk and funk music meet, they teamed up with producer Sam Kassirer (Lake Street Dive, Josh Ritter) and engineer Brian Joseph (Bon Iver, Sufjan Stevens). The latest album strikes a more personal note than ever before, representing the latest stage in a band that never stops exploring new sounds.
---
Photo: Dani Brandwein
Rising Appalachia
risingappalachia.com
As world travelers for nearly two decades, Rising Appalachia have merged multiple global music influences with their own southern roots to create the inviting new folk album, Leylines. Remarkably the band has built its legion of listeners independently -- a self-made success story that has led to major festival appearances and sold-out shows at venues across the country.
Founded by sisters Leah and Chloe Smith, the band established an international fan base due to relentless touring, tireless activism, and no small degree of stubborn independence. However, for the first time, they opted to bring in a producer for the new album, teaming up with the legendary Joe Henry on the sessions. These were also their first recording sessions outside of the South. For 10 days, all six band members lived and recorded in a castle-like studio in Marin County, California, overlooking the Pacific Ocean. As a result, a sense of unity and immediacy can be heard throughout their seventh album, Leylines.
---
Wolf Jett with very special guest Marty O'Reilly
wolfjett.com
The sound of Wolf Jett will make you dance, sing, and possibly even howl. Its roots run deep into the soul and help you heal from the heaviness of life. Their sound is a celebration of perseverance, infusing folk, blues, americana and soul into what can only be described as "Cosmic Mountain Music." Frontman Chris Jones (Scary Little Friends) was born in the south and raised in CA and his songs combine the best of both worlds to create a vibe that is fresh, but immediately familiar to a broad audience. He is joined by long-time musical collaborator Jon Payne (Elliott Peck, The Painted Horses) on drums, Jeff Kissell (Marty O'Reilly and the OSO) on bass, and Will Fourt (McCoy Tyler Band) on dobro, guitar, pedal steel, and very special guest Marty O'Reilly for this show!
---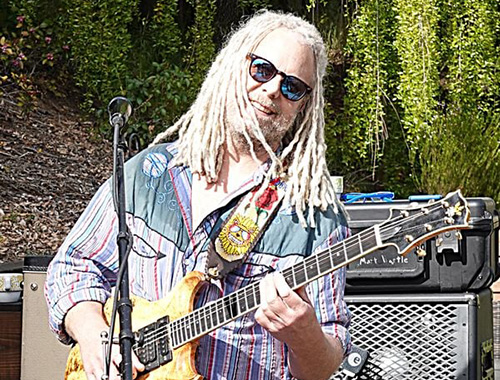 Photo: Ting Vogel
Hartle Strictly stage w/ Matt Hartle & Friends
matthartlemusic.com
Guitarist Matt Hartle was born and raised in rural Pennsylvania, but his playing and his music resonate with a musical and cultural aesthetic that is pure San Francisco Bay Area. His playing exemplifies the uniquely American music form that had it's birth in the Bay Area during the late 1960's and early '70's - a fusion of blues, rock, folk, and jazz performed with an exploratory, and at times mystical, spirit and a penchant for genre bending and blending. After studying jazz and earning a BA in Jazz Performance from the University of North Texas, Matt continued his migration West where he ultimately found his way to the coastal enclave of Santa Cruz, CA where he has made his home since 1995.
Hartle is equally at home with, and notably proficient in, bluegrass, folk, straight-ahead jazz, fusion, and all manner of rock, country, and blues stylings. His signature playing style is marked by an instantly recognizable fluidity and sonic intensity which ebbs and flows in organic currents. Ecstatically melodic themes can erupt into blistering torrents of blues-rock fury or devolve into mysterious, dissonant, yearning explorations, or placid contemplations of a multitude of colors, forms, textures and moods.
The Hartle Strictly stage at Mountain Sol is a place where Matt and friends can stretch out, invite guests and jam throughout the festival Saturday and Sunday.
---